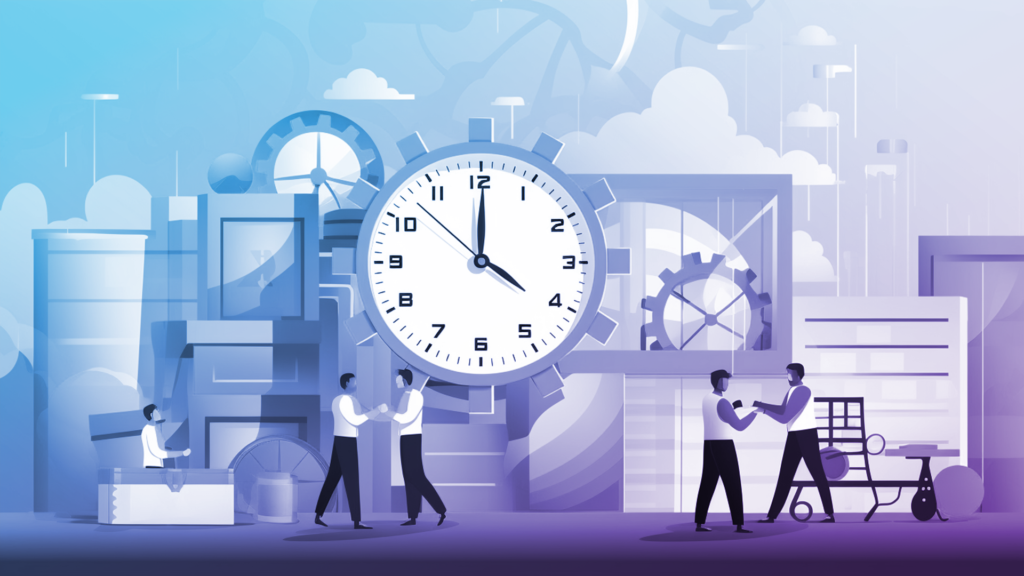 <

Back to blog
5 Ways Real-time Labor Visibility Can Help Improve Labor Productivity and Performance
On August 15, 2023
If you've been in the supply chain during the last three years, then disruptions and shortages shouldn't come as a surprise. And one challenge that hasn't gone away yet is companies can't find enough folks to keep up with the skyrocketing demand. It's a tough spot to be in and organizations need to get real creative with how they handle their processes, products, and most importantly, their people.
We've been praising the benefits of real-time visibility since the pre-COVID era, and we're finally seeing others realize how crucial it is in the current climate. Some of the biggest names in the industry have already tapped into the power of real-time visibility in their warehouses to level-up their supply chain game.
Conn's HomePlus is just one example. Since they implemented Rebus Intelligent Labor, their labor performance shot up by a solid 9% in just a few months. Many other companies are starting to see that real-time labor visibility is not just a nice-to-have feature. It's a critical game-changer for improving labor performance and boosting productivity.
Here are 5 ways that real-time labor visibility can help your company improve labor performance and boost productivity:
1. Increase Proactiveness
The value of real-time data is priceless. Gone are the days of waiting until the end of your shift (or worse, the next day!) to find out how your performance was. With real-time visibility, teams can now measure, monitor, and track their productivity and performance in real-time. This empowers supervisors with the flexibility to proactively allocate resources and labor to bottlenecks and problem areas, effectively minimizing their impact.
2. Institute Incentive Programs
Are you ready to boost productivity like never before? With real-time data and visibility, you can do just that. Rebus Intelligent Labor allows you to track performance in real-time and benchmark against historical data, giving you the power to build incentive structures that will motivate your team to go above and beyond. Imagine the possibilities with pay-for-performance programs that truly inspire your workers to shine during spikes and peak seasons.
3. Just the Right Amount of Visibility
We believe that visibility is key, but we also understand that there is such a thing as too much visibility. That's why Rebus generates smart and powerful visualizations on customizable
dashboards, providing you with just the right amount of visibility based on your specific needs. Say goodbye to endless coordination and reporting – with Rebus, warehouses that work with 3PLs, internal teams, and leadership can all have distinct dashboards, saving you time, effort, and resources.
4. Foster a Culture of Continuous Improvement
Every warehouse knows that not all processes are fully optimized, especially when things are constantly changing. With Rebus, you can empower your teams with access to real-time and historical performance data, making it easy to identify trends, highlight problem areas, and reevaluate your processes. Continuous improvement requires continuous real-time monitoring.
5. Enables Better, Smarter Decisions
Unlock the true potential of your data with Rebus. With real-time and historical data right at your fingertips, your teams can track both micro and macro trends, converting raw data into valuable insights. These insights will make your teams smarter, enabling better decision-making and driving improved productivity and performance. Embrace the power of real-time visibility and watch your supply chain thrive like never before.
Rebus isn't an LMS or a WMS. Unlike standard LMS solutions, Rebus guarantees an incredibly fast time-to-value, with implementation taking as little as a few weeks. And the best part? Our cloud platform comes without the hassle of costly and time-consuming upgrades – all our product updates are included.
It's surprising that something as simple as visibility in the warehouse can have a phenomenal impact on your entire supply chain, but it's true. Countless teams that have implemented Rebus have reported higher productivity and performance, while also experiencing increased employee engagement, collaboration, and motivation. The possibilities of real-time visibility plus Rebus are truly endless.